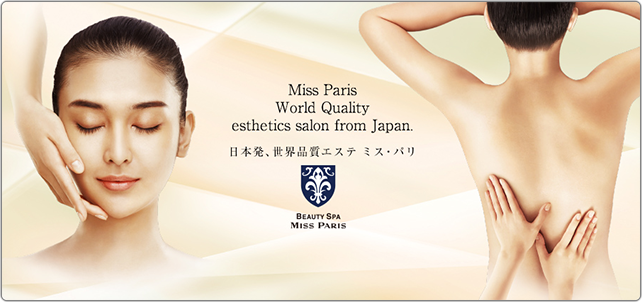 This is an original technique that works efficiently and effectively on cellulite (a mixture of body fat and waste), subcutaneous fat, and visceral fat, with the aim of creating a healthily slim body that will resist weight gain.
Using specialized equipment, this is a rigidly proven slimming method suitable for the 21st century.
Aim for a beautiful and firm body line through losing weight while working out your muscles.

We will make your leg line look long and beautiful by stimulating your swollen ankles and calfs, the flabby fat surrounding the knee, the hard to shape up thighs and the cellulite under the hips with hand massages.

The technique to rub strength along the lymph of the upper body, relaxes the muscles, and to smooth the flow of lymph, we will tighten clearly. The fat of the side and upper arm is hard to drop.

The original, top-quality hand-technique massages offered at Miss Paris work deep in your skin, improve the vitality of your skin cells and muscles, and give you a lovely firmer face line.

---
For Men

Beauty Spa Dandy House