Due to techniques applying strong fiction along the lymph nodes of the upper body, you can expect upper arm size to decrease by 1 to 2 cm in a single treatment. By relaxing muscles and smoothing the lymph flow, the body's fatigue and stiffness are relieved, meaning you can enjoy sizing down while feeling good.
※ There is individual difference in effect.

I was especially impressed by the massage of the inside of the upper arm. Gradually the stiffness in your arms subside, making you feel great. Not only did my size reduce by 1.1cm, but the tightness in my shoulders also completely disappeared. Even my normally cold fingertips were warm.
※ There is individual difference in effect.
---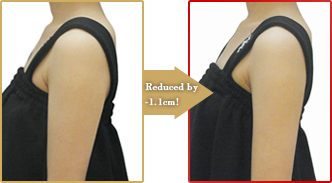 ※ There is individual difference in effect.
---


The "Miss Paris Original" treatment aims to tighten flabby upper arms and flab protruding from the side. Cocooned in the fragrance of aromatherapy, your stiffness and fatigue will dissolve and you can thoroughly enjoy the slimming effects of the treatment.
It takes the tension and stiffness out of all muscles in the back, giving you a smooth body line.

By applying a strong rubbing motion, we expel the extraneous fluid in the fat below the skin's surface and firm up slackened areas.

It stimulates the lymph nodes of the armpits, thereby assisting the smooth flow of the lymph.

1 million vibrations per second are applied to promote the reduction of fat that is hard to lose.

It stimulates the muscle deeply, for a tight, beautiful upper arm.
---

---
※ Individual results may vary.